---
With pure sound output and exquisite special appearance, this 

"Wireless - Bluetooth Car Kit"

can change your car / home speaker to Bluetooth ones, so you can enjoy pure, clear ,wireless music and answer the call in hand-free mode, making your driving safer and more convenient.
Can be used 2 devices simultaneously: Such as can be connected your home stereo system and smartphone at the same time, streaming music from any of them, up to 33ft connection range assure low signal delay.
So from now you can enjoy the music at your will!
Portable feature with clip design that you can take with you wherever you go...  In addition, users can enjoy high-fidelity music and hands-free calling anywhere in the room via wireless control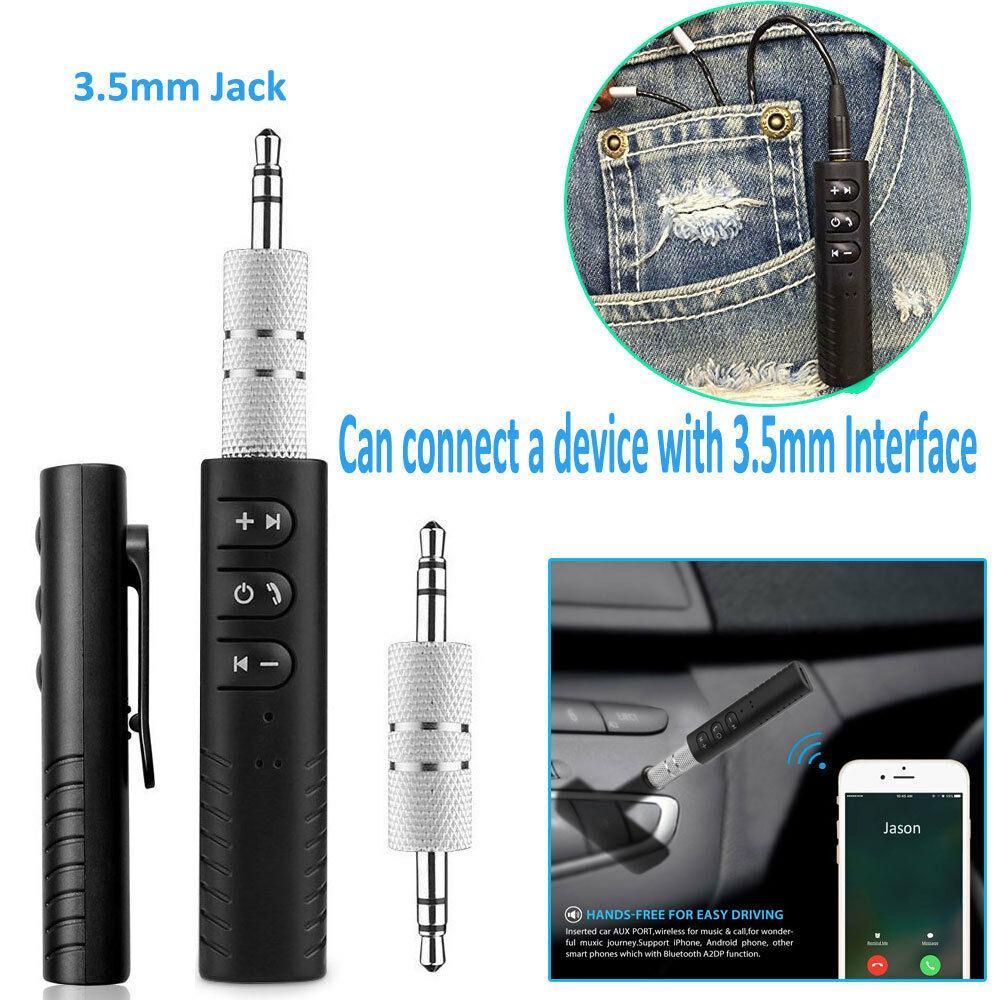 HIGHLIGHTS:
Portable and handy, exquisite special design
Pure sound output, a feast for the ears
Easy to use
Automatic memory connected function, double click to dial the last phone call
Support two Bluetooth devices connecting at a time, switching alternately
Compatible with all home stereos / speaker, car stereos, headphones which support 3.5mm audio input
Suitable for iPhone, Android phone, any other smart phones which with Bluetooth function
Rechargeable micro USB interface for charging, easy to charge
DESCRIPTION:
BLUETOOTH RECEIVER: Built with Bluetooth 4.1 to smart your life that you can enjoy music and hands-free calling from your smartphone in premium-quality sound.Up to 33ft connection range guarantees low signal delay.
DOUBLE LINKS & WIDE COMPATIBILITY:  Portable Bluetooth Receiver can connect two Bluetooth devices at the same time.And it also could compatible with most smartphones and Bluetooth electronics, ideal for home or vehicle audio systems and wired headphones 


AUTOMATICALLY RECONNECT: Just turn on the Bluetooth of your cell phone first,and then turn on the Bluetooth receiver, the Mpow Bluetooth Receiver can be automatically paired.


EXTRA-LONG BUILT-IN BATTERY: Provides up to 10 HOURS playing time and only need 1.5 HOURS to charge it fully.


NOTE: 1.This aux doesn't turn on automatically, please long press the "Multifunction Button" about 3 seconds, when it turned on the blue light will flash,then connect it with your Bluetooth devices.



Instructions:
 If this is the first time you use this device, please pair the Bluetooth AUX first: 
 To enter pairing mode, press and hold the ON/ OFF button for 5 seconds until both red and blue LEDs flash.
 Search for the music receiver on your mobile phone or compatible transmitter. Touch and hold one button to power on and it will automatically search for a compatible transmitter. No any codes to enter if connect with for Apple or for Android device. LED lights beneath the button indicate the device's connection and charging status. 
 The devices should now recognize each other and pair. The LED on the music receiver will slowly flash blue after successfully pairing. 
 To complete pairing some devices require a pass key or code, please enter "0000". 
 Once successfully paired, the devices can be power off. To re-connect simply power them both on,no need to pair again.